July Real Estate in Graphs
Inventories are still high.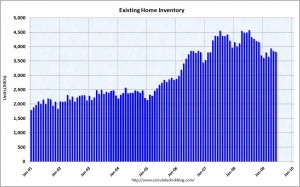 Low priced homes went higher in the bubble and have been crashing down faster.  The following is the Case-Shiller break down for L.A.  Lower priced homes are expected to hit their price bottoms sooner than the more expensive homes.  While low priced homes have around 9 month of inventory on the market (with current sales volumes), high priced homes have more than double that amount of inventory (because of lower sales volume).
In real terms the Case Shiller index baseline is 125 (i.e., 100 adjusted for inflation). The current national level is 140, so prices are still 10% above the historical norm.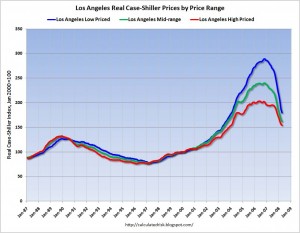 This graph shows that while foreclosures have been holding relatively steady, this is mostly a delay in recognizing the pain. There is a building inventory of mortgages in arrears.
According to a report from Deutsche Bank, as of Market 31st 26% of home mortgages are underwater and that is expected to grow to 48% by 2011.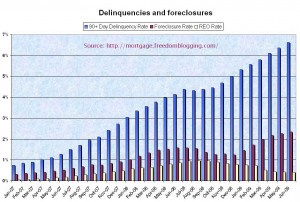 My guess is that housing prices drop a little more and then will start to oscillate up and down in various markets as it drifts the rest of the way back to normal.  A big question mark is whether ruthless defaults on home mortgages become socially acceptable.